Make a Balloon Sculpture
Visit my gallery page to find instructions for all balloons previously posted.
Monkey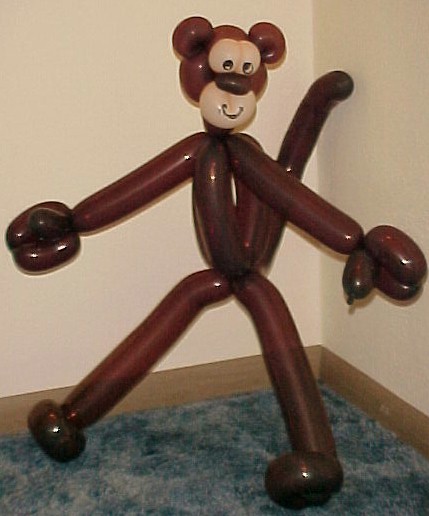 I was trying to make a monkey for our 2004 Vacation Bible School theme and found a good one on Balloon HQ designed by one of my favorite artists, Ralph Dewey. His model is the inspiration for what follows.
| | |
| --- | --- |
| You will need three brown and one blush (pink or white may be substituted) 260 balloons. Begin by making the face with with the blush, inflating it at least 10 inches. Make two 2-inch bubbles and a 4-inch bubble, and then tie the knot to the last twist. loop twist the four-inch bubble. You may pinch twist the two inch bubbles as well for a different look. Then break off the rest of the balloon. If you're making more than one monkey, you should have enough left for one or two more faces. | |
| | |
| --- | --- |
| Inflate one brown balloon, leaving about 4 inches uninflated.Start with a 3/4-inch bubble and give it a pinch twist for the nose. Then make a 1.5 and a 2-inch bubble. The next five bubbles will make a loop and become the head, like the standard teddy-bear head.Sizes should be 2", 1.5", 3", 1.5" and 2". | |
| | |
| --- | --- |
| | Slide the pinch twist between the 4-inch loop and the 2-inch bubbles of the blush balloon for the nose. Tuck the 1.5 and 2-inch bubbles into the five-bubble-loop, and give both of the 1.5 bubbles in the loop an ear twist. |

Inflate both of the remaining brown balloons leaving about 2 inches uninflated. In each balloon make a foot by making a 1.5-inch bubble and a loop just big enough to tuck the bubble inside.
If necessary, squeeze the air to the opposite end of each balloon, and then make a hand by twisting a 1.5-inch bubble (thumb) and two 2-inch bubbles. Lock twist the 2-inch bubbles together and tuck the base of the thumb between them.

| | |
| --- | --- |
| Twist both of these two balloons together about eight inches from the hands. In the other balloon, make a 1.5-inch bubble for a neck and attach the arms at its base. | |
Hold the remainder of the three balloons together and twist them all about five or six inches below the neck. This will make a three-bubble body with the remainder being legs and a tail. Wrap the tail around youe fingers to give it a curve. Position the arms by tucking them into the body. Hips, elbows, shoulders and knees can be added using the Z-Bend technique.
---
According to Web Counter you are visitor number
---

Lots of pictures, people and ideas for balloon sculptors.



Yes, the wallpaper is a stereogram!