Learn a Magic Trick
The Tates Compass
This is a simple trick that you can make yourself. It may not mystify an adult audience, but it has great entertainment potential. The idea for calling this trick the Tates Compass came from an article in The Linking Ring, published by the International Brotherhood of Magicians.
Your prop is a two-sided square sign with an arrow on the diagonal (figure 1). I made mine yellow and black to resemble a road sign. Another popular design is a white octagon with a black arrow. It can be any size from 2'' across for close-up work to over a foot for stage presentations. The back is identical to the front, with the arrow turned 90 degrees from the one on front. The gray arrow on figures 2 through 5 shows the position of the arrow on the back.
By turning the card over on the axis (red line) shown on figure 2, you can show both sides pointing the same way. Use axis 3 to make it point the opposite direction.Pivoting on the corners (axes 4 & 5) will turn the arrow 90 degrees to the right or left. With a little practice you can go from any direction to any other direction without a second thought. I always show both sides pointing the same way before changing to a new direction.
Presentation
I tell the story of a Mr. Tate who had a property line disagreement with a neighbor. When a surveyor's compass proved the neighbor right, Tate decided to make his own compass. That way North could be any direction he wanted it to be. The idea caught on and he began to market the Tates Compass. Explorers began to use the Tates Compass while out in the wilds, and this led to the well-known saying 'He who has a Tates is lost.';-)
Application
This story lends itself to teaching the importance of getting accurate information and following established procedures (rules?) based on that information. It can apply in a variety of circumstances.
In Gospel applications I point out that God has given us His Word, the Bible as a compass for our lives. But many people have decided to ignore God's way and go their own. Many of man's ideas have been 'marketed' and we see the results in the chaos in the world around us. People who are 'lost' in a confusing mixed-up world can find direction by going back to God's standard, the Bible.
---
Next trick

Links to other magic and gospel resources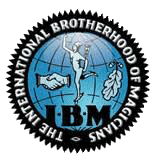 Return to the Wonder Factory
---