Balloon Ideas for SCUBA
Visit my gallery page to find instructions for other balloon ideas.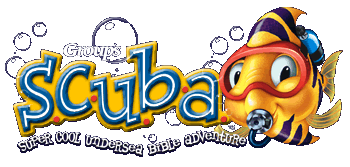 The 2003 VBS theme from Group is SCUBA (Super Cool Undersea Bible Adventure). Here's the preview pictures of the Bible buddies. I've just started designing them with balloons and I'm looking for good ideas. Send me your instructions and/or photos and I'll post the best ones here. Models should use about 4-6 balloons and not require highly advanced techniques (except as an option, for serious twisters).
To submit instructions or photos (gif or jpg format please) Click Here

or send an email to garry@professorwonder.com Decor ideas!!